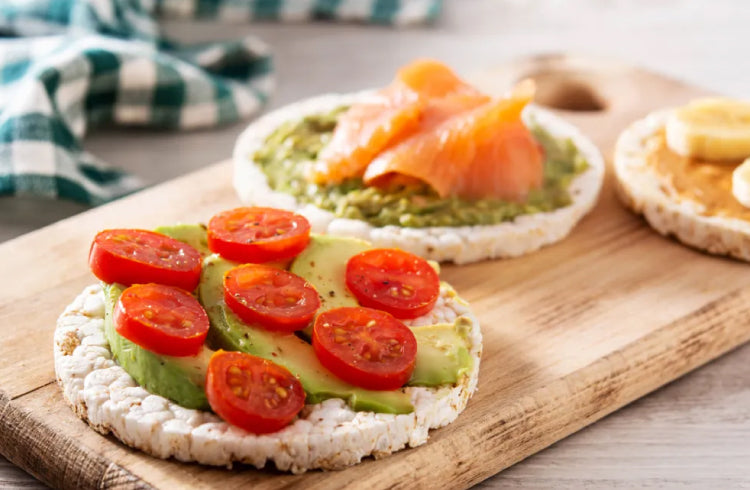 Rice Cakes: Delicious Quick Evening Snacks That Will Keep You Full
Why Are Rice Cakes The Ultimate Snacks?
Organic rice cakes are light and nutritious, they are a great evening snack to keep you full in between meals. They are crispy, delicious and a great way to add some healthy carbs to your diet for those evenings when you need a quick bite to eat. They are easy to prepare and can be taken on the go if you're on a busy schedule. They are wholegrain brown rice cakes, and are a good source of fibre and protein. They are good evening snacks and will keep you full for some time. 
Organic wholegrain rice cakes are simple to make, and they can last for a while in the refrigerator. They are delicious, and they also help you in losing weight.They can also be stored in an airtight container. Puffed rice cakes can also come in different flavours, depending on flavours that are popularly searched for. All you need is a few different ingredients and your rice cakes will be ready to eat.
Rice Cakes With A Variety Of Flavours
While brown rice cakes may appear to be dull, they're actually a delicious treat that can be made in many different ways! They're traditionally made from puffed rice and are a good source of carbohydrates and protein. There are many different varieties of rice cakes flavors. Turmeric and black pepper, classic plain unsalted, multigrain with superseeds, lentils and flaxseed, these are the healthiest rice cakes flavours to try out! Organic rice cakes in these flavors are the most loved and used across the country. Purchase rice cakes online at a low cost to sample these delectable flavours. For trying these most amazing flavours, buy online rice cakes at a cost efficient price. They can be used as side dishes with meals or snacks by themselves. 
What To Eat With Rice Cakes?
Organic wholegrain rice cakes are made from rice flour and water, and they are formed into circles. They are simple to prepare, and they are delicious. Rice cakes are great food to eat. You can add any variety to your rice cake, from cheese cubes to meatballs. Brown rice cakes can be enjoyed with your favorite flavour of jam, jelly, or honey, or you can keep them plain and eat them with a little butter. They are easy to make, and they are cheap, too. You can also put a little peanut butter or almond butter on them, or you can make a savoury rice cake by adding some cheese, salt, and pepper. Serve them with any chutney or pickle of your choice. 
Popular Rice Cake Recipes
There are two options when it comes to toppings, ie. sweet and savoury. Top each brown rice cake with the toppings and make sure that after patting, you don't stack them as they will stick together and won't be very easy to separate. The amounts of topping to include are extremely flexible, so you can spread as much or as little as you like onto your rice cakes! Try these quick evening snack recipes that will keep you full. Here are some of the popular and quick recipes for rice cakes.
Peanut Butter & Raspberry Rice Cake
Rice Cakes
Peanut Butter
Raspberries Warmed For 30 Seconds In The Microwave
Banana Sliced
Chia Seeds
Dessicated Coconut
Avocado & Salads Rice Cake
Rice Cakes
Purple Salad Leaves
Avocado
Mixed Seeds
Black Pepper For Seasoning To Taste
Hummus And Arugula Rice Cake
Rice Cakes
Rocket (Arugula)
Hummus
Mixed Seeds
Black Pepper For Seasoning To Taste
Cream Cheese & Raspberry Rice Cake
Rice Cakes
Raspberry Jam
Mixed Seeds
Puffed Quinoa
Fresh Raspberries
Dark Chocolate Melted
Vegan Cream Cheese
Wholegrain brown rice cakes are delicious, quick evening snacks that will keep you full and also provide you with a lot of energy. One of the reasons rice cakes or any other healthy snacks work so well is because they are good sources of fibre and protein. Moreover, rice cakes are processed in a way that enhances the flavour and texture of the cakes. So, once you have a rice cake, you'll want to keep eating it.
Tags:
Quick Evening Snacks,
snacks for breakfast,
snacks for evening,