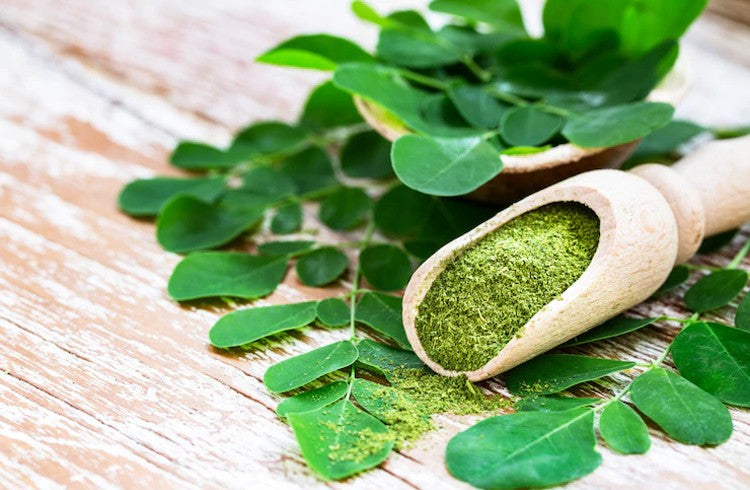 Organic Moringa Powder : Health Benefits and How to Use?
Moringa tree is known also as a 'Miracle tree' as it is every part holds medical properties. Moringa Oleifera, its scientific name, is indigenous to Northern India like Africa & Asia and is one of the most nutrient-rich plants on earth. The dark green-yellow color leaves carry 7 times more Vitamin C than oranges and 15 times more potassium than bananas. Organic Moringa Powder is made from natural-dried Moringa leaves which are packed with antioxidants that might boost the immune system. This Organic herbal powder is:
A good source of Calcium & Vitamin A

Comprise 24% fiber

A good source of Iron, Vitamin K & E. 

Holds 25% Plant protein which contains all 9 essential amino acids.
The Health Benefits Of Organic Moringa Powder
This miracle powder is a powerhouse of nutrients and health benefits. Early studies have shown that consuming Moringa leaves or diluting its power in water or juice lower arthritis, cancer, stomach ulcers, wound healing, diarrhea, asthma, and long-lasting inflammation. Here are some more points on the health benefits of Moringa.
1.  Supports Cognitive Function
 The antioxidants in these magical leaves might support Cognitive function (it refers to multiple mental abilities like learning, thinking, remembering, decision making and many more) and also fight against cognitive decline. Regular intake of Moringa juice will:
Helps in accommodating mood, memory and neurotransmitter balance.

It is also found through studies that it helps in depression.

Fight against problems like Alzheimer's and Dementia.
2.   Rich in Antioxidants
The antioxidant properties in Moringa shield our body against free radicals which are the damaging effects present in the environment. The harm caused by free radicals leads to many chronic ailments like type 2 diabetes, heart problem and Alzheimer's. The Moringa powder is loaded with:
They are rich in beta-carotene that protects against free radicals.

The antioxidant 'Quercetin' aids in lowering blood pressure.

The other antioxidant ' Chlorogenic acid' helps in maintaining blood sugar levels after a meal.
3.  Lowers Cholesterol
Moringa Powder is a staunch remedy against high cholesterol. High cholesterol is the reason why people suffer from heart diseases and this problem can be solved by consuming Moringa powder daily. According to studies, pregnant women commonly experience higher levels of cholesterol which can augment the risk of emerging gestational diabetes during this term. Consuming Moringa leaves or juice aids in:
It may help in controlling diabetes in pregnant women

Daily intake aids in lowering cholesterol level
4.  Keeps the Liver Healthy
Daily intake of Moringa juice stimulates the revamp of liver cells. The magical leaves have a high concentration of polyphenols that defend against oxidative damage to the liver and might remit it. Along with repairing liver cells Moringa juice helps in: 
It surges the protein level in the liver

Moringa helps in proper functioning by stabilizing liver enzymes. 

It also helps the liver in absorbing the nutrition properly and promotes the recovery of damaged tissues.
5. Great for the nervous system 
 Moringa powder or its juice improves many nervous disorders. It works as a neuro-enhancer and boosts brain health. People dealing with migraines or suffering from recurring headaches must drink Moringa juice. Along with curing headaches the juice helps as:
It works as a mood balancer as the powder balances the production of neurotransmitters like serotonin and dopamine.

  It aids in memory, mood and stimulus-response. 

The powder has a high concentration of Vitamin E and C which helps in enhancing brain function.
Heading: 5 Easy Ways To Add Organic Moringa Powder In Your Daily Life
The easiest way to add Moringa powder to your daily life is as a superfood seasoning, or as other seasoning or herbs. 
Bake- Add 1 or 2 spoons of powder to your healthy muffins, cake & bread.

Strew- Sprinkle them on oatmeal, salads & pasta.

Stir- Churn the powder into soup, sauce, stews & dips.

Blend- Mix the healthy powder in the morning smoothie, ice cream & juice.

Shake- Jiggle the green powder in juice, coconut water & salad dressing. 
Conclusion
Moringa powder is highly nutritious and is helpful for people who have deficiencies. The powder shields our body against various ailments and also repairs past health issues. Consuming the Moringa concoction will make you feel healthy and energetic and work as a health promoter.
Tags:
Health Benefits Of Moringa Powder,
Moringa Powder Benefits,
Organic Moringa Powder,