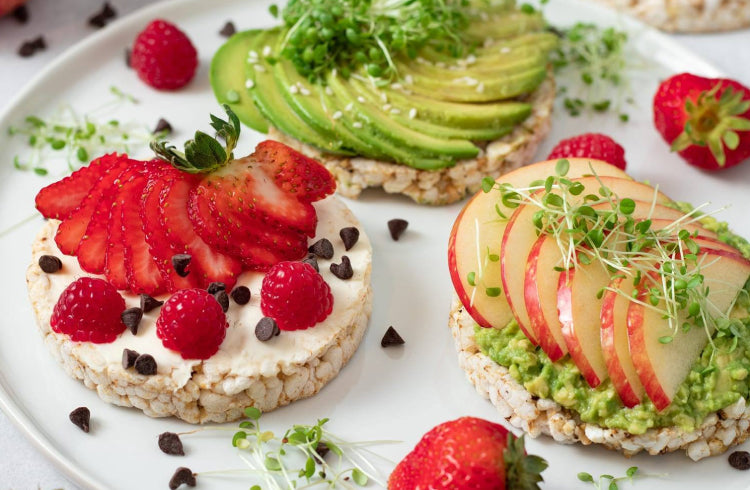 3 Reasons To Buy Rice Cakes and Benefits
Rice Cakes! Why not! 
Did you know rice cakes were the most healthy trending snack in the 80s and 90s? Yes, you heard it right! They have been in every household for a very long time, popularly known as Diet food. Sounds healthy! Even today, Rice cakes are a popular snack for health freaks. These light crispy snacks are made from the purest organic brown rice. Organic brown rice cakes are the by-product of brown puffed rice, made by being pressed in extreme pressure and high heat temperature together. 
These circular snacks are healthy, nutritious and are a good alternative that can be eaten with a variety of toppings and spreads. There are a wide range of varieties of flavours available in rice cakes. While they are a simple crunchy snack, there is more to know about their impact on our health. Find out why you should buy brown rice cakes online and have these snacks in your home as an in-between or as breakfast snack by reading on.
1. Because they are 100% Organic!
People are learning and understanding the need to start consuming healthy food. Taking care of our health is important and there is no age bar to get started with it. In terms of rice cake, the most important and only ingredient is brown rice. Organic brown rice cakes are made from organic farms. The organic farms are managed by only certified farmers who have experience and knowledge about the methods of organic farming. 
Coming back to rice cakes, There are a lot of brands in the market that offer rice cakes but only a few of the brands are using whole organic products. Always look for certified organic brands on their labels while buying organic rice cakes online.
2. Quick and healthy snacking option!
Who doesn't want healthy, light weight, delicious and quickly made snacks! These yummy snacks are best for having at any time of your day or night. Organic brown rice cakes are also a good alternative for traditional breads, baked cookies, potato chips and crackers. Being made by organic ingredients, they are gluten free and low calorie products made without any artificial flavours, added colours and preservatives. These rice cakes provide a good source of energy to your body that helps you to go on for a long tiring day. 
3. Contains Exotic Flavors! 
Rice cakes in additional flavors! And that too organically made! Another check mark on healthy and nutritious diet plans. These vegan plant based organic brown rice cakes come in a variety of flavors that add the best smack to your taste buds. Classic unsalted, turmeric and black pepper, multigrain with 7 superseeds, lentils and flaxseeds are some of the exotic flavors that come in organic rice cakes. Being non-baked and non-fried also adds a whole new level of tastes to experiment with. These flat round snacks can be eaten with a variation of toppings that can go with these healthy crunchy rice cakes such as :
All kinds of Nut Butters 
Fruits
Desserts
Cheese
Caramel
Chocolate
Apple cinnamon 
You can also take these snacks with healthy organic drinks or smoothies to have a healthy nutritious diet. Now that you know why organic brown rice cakes are a good inclusion for your daily healthy diet. These organic and crunchy rice cakes will become your favorite snack for sure!